Cyclops figure

Tapestry (detail),
1973
In Turkey, Özdemir Altan represents the fundamental dynamics of carpet painting, which is a product of collective labor. These works contain all high level painting values, especially the basic material, thread and the application of color in conformity to the environment and to the intention and concept of the artist. These pictorial carpets (Tapestry) possess a monumental aspect. In the artist's own words: "Those carpets cannot be produced once more again neither by me nor by another crazy person."
Think of an artist who begins with the sketches he prepaires and has the result he aims in his mind and his team under his direction. This is the mystery of his success: Approaching to the subject with risk will lead to many surprising as well as successful results.
Altan transfers the abstracting power of his phases "Kings and Queens" and "Cyclops and the Son of the King of Flies", together with some early messages of the coming Realistic phase as well. At the same time, Altan proves the unlimited nature of his creativity and the astonishing richness of his world of forms. Altan says about these masterpieces: "I wonder whether I am going too far, but I think that these big scaled works will take the second place in Turkish art center after the great mosques."
By winning the first prize of a contest by İstanbul Radio, the first application of two wall tapestries, 24 square meters each, were performed. Collage sketches of the realistic period followed these, both painting and tapestry.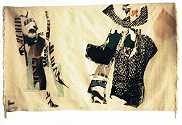 Anatolian People

1973, Tapestry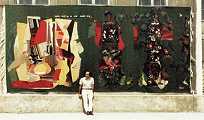 Contemporary Music & Three
Ancient Anatolian Kings

1969, 340 x 700 cm
(one of the Radiohouse tapestries
about to be photographed
in front of the Academy)