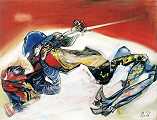 Death of Caca Bey

1970, oil on hardboard,
120 x 117 cm
1971 was a year of turbulent feelings for me, during which I was buffeted by many contrary winds.
In 1955 I had done a cubist painting as part of my final pregraduation work at the academy. It was called War, meaning a battle of antiquity, and I believe it was inspired by Roger de la Fresnay.
In the foreground lies a fallen warrior, pure and gracious but near to his end. I wanted it to depict with extraordinary force, the fact of no more existing. The passing away of the strong and beautiful was the more poignant, the more devastating loss.
This helplessly sprawled figure, which was to reappear frequently in the 1970's with the titles Dead King and the Death of Cacabey, shows that even in 1955 I was determined to bring down my gaily bedecked monarches, sooner or later, some day.
* 1971 military coup at Turkey

Shot dead

1971,
Drawing, colour pencil,
21 x 29 cm

Drawing

1971,
pencil on paper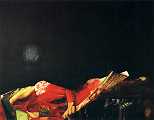 Process

1972,
oil on canvas,
89 x 116 cm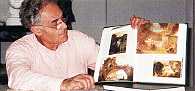 Museum visit with Book

Altan, who believes art can be learned only in museums, uses projections and books as only alternatives in his lessons. On the other hand, teaching by the book was the rule of his workshop master Z. Faik.