Cyclops

1966,
collage,
The first Cyclops figure
1967 was the year of symmetry in my work, when a creature appeared, more or less human like in proportions, but beeing abstract and using a symbolic language. Each version was, like the predecessors, depicted standing, and like them seemed to be posing especially for me.
The Fly King's Son is a product of those years.
The works that came at the very first, however, being the first examples of symmetry, bear the name Cyclops.
The paintings of this period are reminiscent of forms like those in hand-embroidered satin; of the insignia worn by pashas, of crossed swords, the crests of public fountains, the rays of light from doorway fixtures.
There is no intrinsic connection, however, between these and the motivation for carrying out the designs.
Tryptic to the Son of the King of Flies , in 1968, a wooden sculpture flanked by two paintings, was my first three-dimensional work.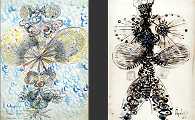 Son of the King of the Flies (2x)

1968/1967, gouache on Paper,
70 x 50 cm (each)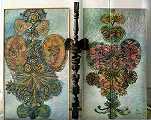 Triptych to the Son
of the King of the Flies

1968,
oil on canvas, wood.
paintings: 150 x 99 cm,
sculpture: 181 x 36 x 11 cm

Winged Queen
1967, Oil on cardboard,
69 x 49 cm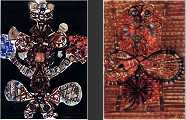 Son of the King of the Flies (2x)

1967,
gouache on paper
75 x 54 cm and
54 x 38 cm